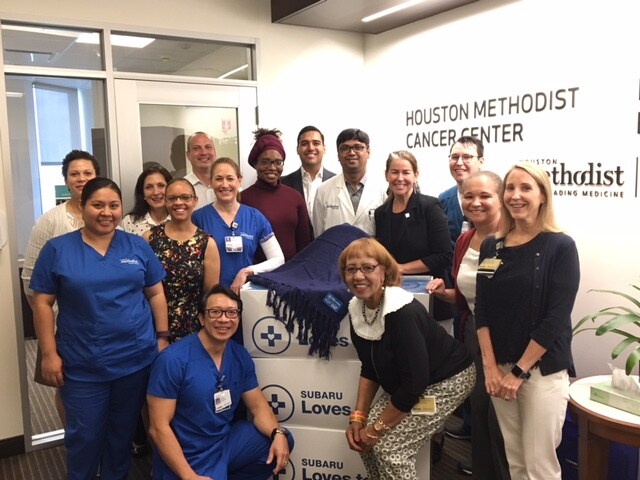 Gillman Subaru Houston and the Leukemia & Lymphoma Society literally brought warmth and hope to hundreds of patients fighting cancer at The Houston Methodist Hospital. The project is an extension of Subaru's Love Promise designed to help communities come together to make an incredible impact. Gillman Subaru teams with the local chapter of the Leukemia & Lymphoma Society to deliver blankets, arts and craft kits and messages of hope to patients undergoing treatment at the Methodist hospital.
Throughout June, visitors to Gillman Subaru were given the opportunity to share personalized, hand-written messages of hope which were delivered to local cancer patients along with blankets, to provide comfort and warmth while they receive treatment at hospitals nationwide. Those who wrote a message of hope received a Subaru and LLS awareness bracelet, to help spread awareness of LLS and Subaru of America's goal to provide hope and care, one gesture at a time.
Pictured are representatives from the Texas Gulf Coast Chapter of the Leukemia & Lymphoma Society and Houston Methodist Cancer Center along with Gillman Employees: Eliel Ramirez, General Manager, Wally Mendez, Service Manager and Stacey Gillman, President.