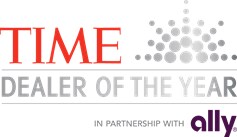 FOR IMMEDIATE RELEASE Contact: TIME Dealer of the Year Hotline (203) 912-1257
Bill Wolters
Texas Automobile Dealers Association
(512) 476-2686
TIME AND ALLY FINANCIAL HONOR HOUSTON DEALER
Stacey Gillman Wins National Recognition for Community Service
and Industry Accomplishments at NADA Show
(New York, NY, October 21, 2019) – The nomination of Stacey Gillman, owner and dealer at Gillman Subaru in Houston, Texas, for the 2020 TIME Dealer of the Year award was announced today by TIME.
Gillman is one of a select group of 49 dealer nominees from across the country who will be honored at the 103rd annual National Automobile Dealers Association (NADA) Show in Las Vegas on February 15, 2020. The announcement of this year's annual award was made by Susanna Schrobsdorff, chief partnerships officer, TIME, and Doug Timmerman, president of Auto Finance for Ally Financial.
The TIME Dealer of the Year award is one of the automobile industry's most prestigious and highly coveted honors. Recipients are among the nation's most successful auto dealers who also demonstrate a long-standing commitment to community service. Gillman, 53, was chosen to represent the Texas Automobile Dealers Association in the national competition – one of only 49 auto dealers nominated for the 51st annual award from more than 16,000 nationwide.
"My most rewarding task is being a single mom with two great kids while overseeing daily dealership responsibilities," nominee Gillman said. "Our employees have the same balancing act. They come from all over the world and are my Gillman family. They speak more than 20 languages and are achieving the American dream."
Gillman was born into the car business. Her grandfather, Frank Gillman, opened his first dealership in Houston in 1938 and her father, Ramsay, followed in his footsteps. Gillman attended college at the University of Texas at Austin and then joined her father in the automotive business over 30 years ago.
First, learning the ins and outs of the business at Frank Gillman Pontiac in Houston, Gillman worked in every area of the dealership. "I changed oil, delivered parts, managed used vehicle sales, was a sales secretary and more," she said. "I sat in every seat until I understood the challenges of that position. I learned what our employees needed to do their jobs right and gained a true respect for their contributions. These experiences have been invaluable."
Gillman was named President of the auto group in 2008. "I was able to work alongside my father and see how he overcame challenges and watched how he handled the sand traps," she said. "I saw how each hurdle was resolved and that companies can bounce back from even the most difficult situations. I have applied these teachings throughout my career when both small and large issues have arisen. I am still learning every day."
She put those lessons to good use when she weathered the economic recession, three destructive hurricanes, and then the unexpected death of her father and mentor in 2011. Today, she is partners with her brother, Jason Gillman, in 10 dealerships in Texas representing brands Chevrolet, Buick, GMC, Chrysler, Jeep, Dodge, Ram, Mitsubishi, Nissan, Subaru, and Honda.
Gillman has been chairman of both Texas and Houston dealer associations and a staunch advocate for the industry. "I strive to work at both the state and federal level communicating with our legislatures, on both sides of the aisle, the threats and challenges of the automotive industry," she said. "I've been honored to serve under two governors, encouraging a business friendly environment that's good for the citizens of the state of Texas."
In the area of community service, Gillman partners with the local Harlingen Consolidated Independent School District for the Gillman Drive for Perfect Attendance program. "We award students everything from a laptop to a free car for having perfect attendance, and in turn, the school district receives incremental funding from the state based on attendance rates," she said. "This program is responsible for generating more than $600,000 in incremental funding annually to the school district, which is then reinvested in our students to improve graduation rates."
For 24 years, Gillman has championed the Fort Bend Women's Center, which assists survivors of domestic violence and sexual assault. "Our annual Ramsay Gillman Charitable Golf Tournament has raised more than a million dollars for this worthy cause," she said. And Gillman employees are encouraged to take one paid workday per year to volunteer at the center.
Other initiatives she supports include Buffalo Bayou Partnership Regatta (kayak and canoe race that benefits Houston's Buffalo Bayou Park); Light the Night (walk to raise funds for the Leukemia & Lymphoma Society); AIDS Walk Houston (benefitting local AIDS service organizations) and Pick Your Pet (adoption event for the BARC Animal Shelter and Adoptions), to name a few.
Gillman added, "We've won lot of awards, but what is most important is supporting our community and providing a workplace atmosphere where employees can learn and grow within our organization. These are two areas key to creating a positive company culture."
Dealers are nominated by the executives of state and metro dealer associations around the country. The award is sponsored by TIME in association with Ally Financial, and in cooperation with NADA. A panel of faculty members from the Tauber Institute for Global Operations at the University of Michigan will select one finalist from each of the four NADA regions and one national Dealer of the Year. Three finalists will receive an additional $5,000 for their favorite charities and the winner will receive an additional $10,000 to give to charity.
In its ninth year as exclusive sponsor, Ally will recognize dealer nominees and their community efforts by contributing $1,000 to each nominee's 501(c)3 charity of choice. Nominees will also be recognized on AllyDealerHeroes.com.
"The award applauds the incredible effort each of these dealers put into their businesses and their communities," said Doug Timmerman, President of Auto Finance at Ally. "They are influential business leaders and admired ambassadors for worthy causes. It's an honor for Ally to recognize their generosity and impact in cities and towns across America."
Gillman was nominated for the TIME Dealer of the Year award by Bill Wolters, president of the Texas Automobile Dealers Association. She has two children.
###
About TIME USA LLC
TIME is a global multimedia brand that reaches a combined audience of more than 100 million around the world. A trusted destination for reporting and insight on the people, places and issues that matter, TIME captures the events that shape our lives. TIME's major franchises include the TIME 100 Most Influential People, Person of the Year, Firsts, Best Inventions, Genius Companies, World's Greatest Places, and more. With 45 million digital visitors each month and 40 million social followers, TIME is one of the most trusted and recognized sources of news and information in the world.
About Ally Financial Inc.
Ally Financial Inc. (NYSE: ALLY) is a leading digital financial-services company with $181.5 billion in assets as of September 30, 2019. As a customer-centric company with passionate customer service and innovative financial solutions, we are relentlessly focused on "Doing It Right" and being a trusted financial-services provider to our consumer, commercial, and corporate customers. We are one of the largest full-service automotive-finance operations in the country and offer a wide range of financial services and insurance products to automotive dealerships and consumers. Our award-winning online bank (Ally Bank, Member FDIC and Equal Housing Lender) offers mortgage-lending services and a variety of deposit and other banking products, including savings, money-market, and checking accounts, certificates of deposit (CDs), and individual retirement accounts (IRAs). Additionally, we offer securities-brokerage and investment-advisory services through Ally Invest. Our robust corporate finance business offers capital for equity sponsors and middle-market companies.
For more information and disclosures about Ally, visit https://www.ally.com/#disclosures.
About the NADA Show
The annual NADA Show brings together more than 20,000 franchised dealers and their employees, industry leaders, manufacturers and exhibitors to learn about the latest auto industry tools, trends, products and technologies.
--
TIME Dealer of the Year